Summer is just around the corner, and planning exciting outdoor activities is on the minds of many people. For senior citizens, summertime can be a season of loneliness and isolation, as their families and relatives are often on vacations or taking time off and might not be able to spend much time with them. In this blog, we'll detail some easy and fun activities for an elderly individual to plan and look forward to for the upcoming summer months. If you need help with daily activities then you can choose a friend or family member to care for you under the CDPAP program if you qualify. We at LifeCare Advantage, LLC offer quality and excellent care for our clients and are one of the leading Medicaid CDPAP programs in New York State. Contact LifeCare Advantage, LLC to learn more about the CDPAP program today!
Fishing
This can be a fun experience for a senior citizen who is fully mobile or one who may struggle to walk well. Check local ponds, streams, creeks, and lakes in your area for fishing and try to choose one that is easily accessible and well-stocked with fish. An affordable rod and reel can be purchased at a local sports supplies store. A fun afternoon can be spent enjoying the sunshine and scenery while waiting for a fish to take a bite. Even if the afternoon ends up being a bust for taking home a fish or two, it will still be an exciting and enjoyable experience for everyone involved and a great way to get outside and enjoy nature.
Picnic
Another great way to get outside and enjoy the warmer temperatures and sunshine, a picnic is an easy and simple way to spend time with friends or family members while eating a delicious lunch. To make the excursion easier, favorite sandwiches, subs, freshly-made salads, desserts, and beverages can be purchased at a local deli or restaurant. If your senior citizen would rather make his or her own lunch, everyone in attendance can bring a dish to enjoy and share. A picnic can be enjoyed in a local park, playground, or even the front or back yard of a home or residence. This can be a fun time to talk about fun memories, recent happenings, or catch up on friends' and family members' lives.
Plant a Garden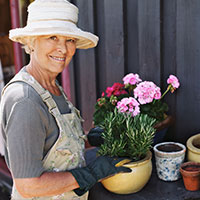 If your elderly loved one has a green thumb, planting flowers, vegetables, herbs, or an entire garden is a wonderful activity that can last the entire summer season. You can make it as simple or elaborate as you or your loved one chooses. Small pots can be purchased and filled with soil and seeds, or a small plot of ground can be prepared for vegetable and flower plants. Weeding, watering, and watching the small plants grow and mature is a great way to stay busy, and this is an excellent choice for the senior citizen who likes to stay busy and stick to a schedule. When beautiful flowers bloom or vegetables ripen, these can be shared with loved ones or close friends as well. You can even plan an end-of-summer party and truly enjoy the fruits of your labor!
Start a Book Club
Perfect for bringing individuals who love the written word together, creating a summertime book club is fun way to introduce newer senior citizens to the mix and make new friends with other elderly individuals in the community. Books can be selected at the local library and meetings can be held at a home, community center, cafe, or coffee shop. Your elderly loved one might be surprised by the level of interest that other senior citizens may show in reading and discussing literature, and he or she could make wonderful friends through a fun club such as this.
Attend Museums, Art Shows, or Outdoor Community Events
The summer season has a way of drawing people outside to enjoy the beautiful weather. Check bulletin boards, local city or community websites, or flyers around town detailing new museum exhibits, art gallery openings, or outdoor plays or concerts. These can be events the entire family can enjoy and a great way to make new friends in the community.
Go to a Sporting Event
Another great way to enjoy the summer weather, baseball, soccer, and other summer sports are a fun way for the avid sports fan to enjoy a hot day. You can enjoy everything from a local baseball team to the pros, and being outside with hundreds of happy sports fans will help your elderly loved one feel apart of something exciting. If your senior citizen struggles with limited mobility, you can call ahead and ask for wheelchair-accessible seating or to check if elevators are an option in the stadium or field. A game or sporting event is also a great way to bond older generations with younger as well.
Summer is a wonderful time of warm weather, sunshine, and wonderful memories. Make sure your senior citizen feels included by planning some exciting outings and events with him or her. With a little preparation, you'll be able to find the perfect activity for your elderly loved one. If you're searching for a trusted and professional at-home care, contact our experienced and helpful team at Lifecare Advantage, LLC. We understand that you only want the best of at-home care for your loved one, and we'll do our best to work with you and your expectations. For one of the best Medicaid CDPAP programs New York State has to offer, call us today!